Posted by Matt M. on Apr 15th 2019
Pontiac Solstice / Saturn Sky Buyer's Guide
Looking to purchase your next convertible sports car? The Pontiac Solstice and Saturn Sky, which were produced from 2006-2009, may just be the car you're looking for! We've compiled all the knowledge we're learned working with these cars over the years with the intention of helping you make a more informed purchase decision. Continue reading below to learn more the vehicle itself, various options and sub-models, as well as any reliability issues you should be on the lookout for.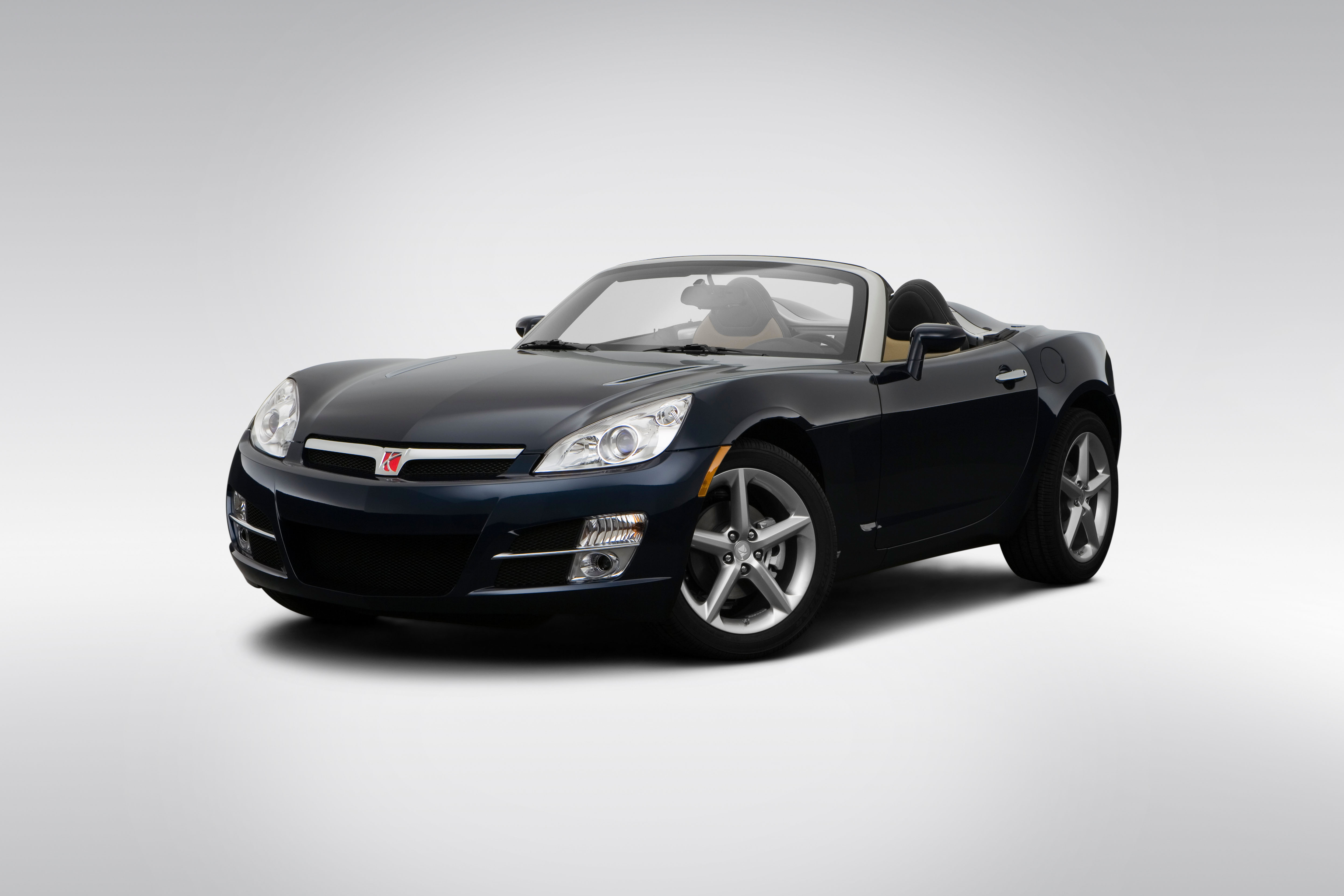 Saturn Sky
Model info
Based on the GM Kappa platform, the Solstice and Sky share the same 2 seat, rear wheel drive, convertible top chassis. This same chassis was also used in the foreign market Daewoo G2X and Opel GT. Both vehicles also feature the same 2.4l Ecotec LE5 engine and drivetrain package. This 4 cylinder engine is similar to many of the Ecotec branded engines found in many GM vehicles that produce varying levels of power. The performance tuned 2.4l found in the Solstice and Sky produced 177 horsepower and 167 foot pounds of torque.
Power is delivered to the differential through either a 5 speed automatic transmission or a 5 speed manual Aisin AR-5 transmission. It is then routed to the rear wheels via a standard open differential or optional Limited Slip Differential (option code G80).
Options List
GM offered a suite of options for the vehicles to make it your own. When searching for the right vehicle for you, be sure to check inside the glovebox while inspecting the car. GM uses a vehicle info sticker, as shown below, that contains a list of all that vehicles specific RPO option codes. Referencing these codes will inform you of which options such as trim, wheels, color, LSD, and suspension package came on the particular car you're looking at. Some of the key option codes for desirable options are listed below. A link to a comprehensive list of RPO codes can be found on the link provided at the bottom of this guide.
Key Option Codes
FE2 LE5 - Suspension Package
G80 - Limited Slip Differential
PCQ - Premium Package
ZQ3 - Convenience Package
R6A - Leather Package
U2K - XM Satellite Radio
US9 - 6 Disc CD Changer
UQ3 - Monsoon Premium Sounds System
UE1 - Onstar Equipped
PD5 - 18x8.5" Chrome Finish Wheels
QF8 - 18x8.5" Polished Aluminum Wheels
The Convenience Package includes cruise control, driver information center, fog lamps, and steering wheel controls. If you are looking for a well optioned vehicle, the premium package is a must. This will add interior trim such as a 3 spoke leather wrapped steering wheel, steering wheel radio controls, leather wrapped shift knob, and leather seats. The better optioned vehicles typically also had the chrome finish wheels and Monsoon audio package.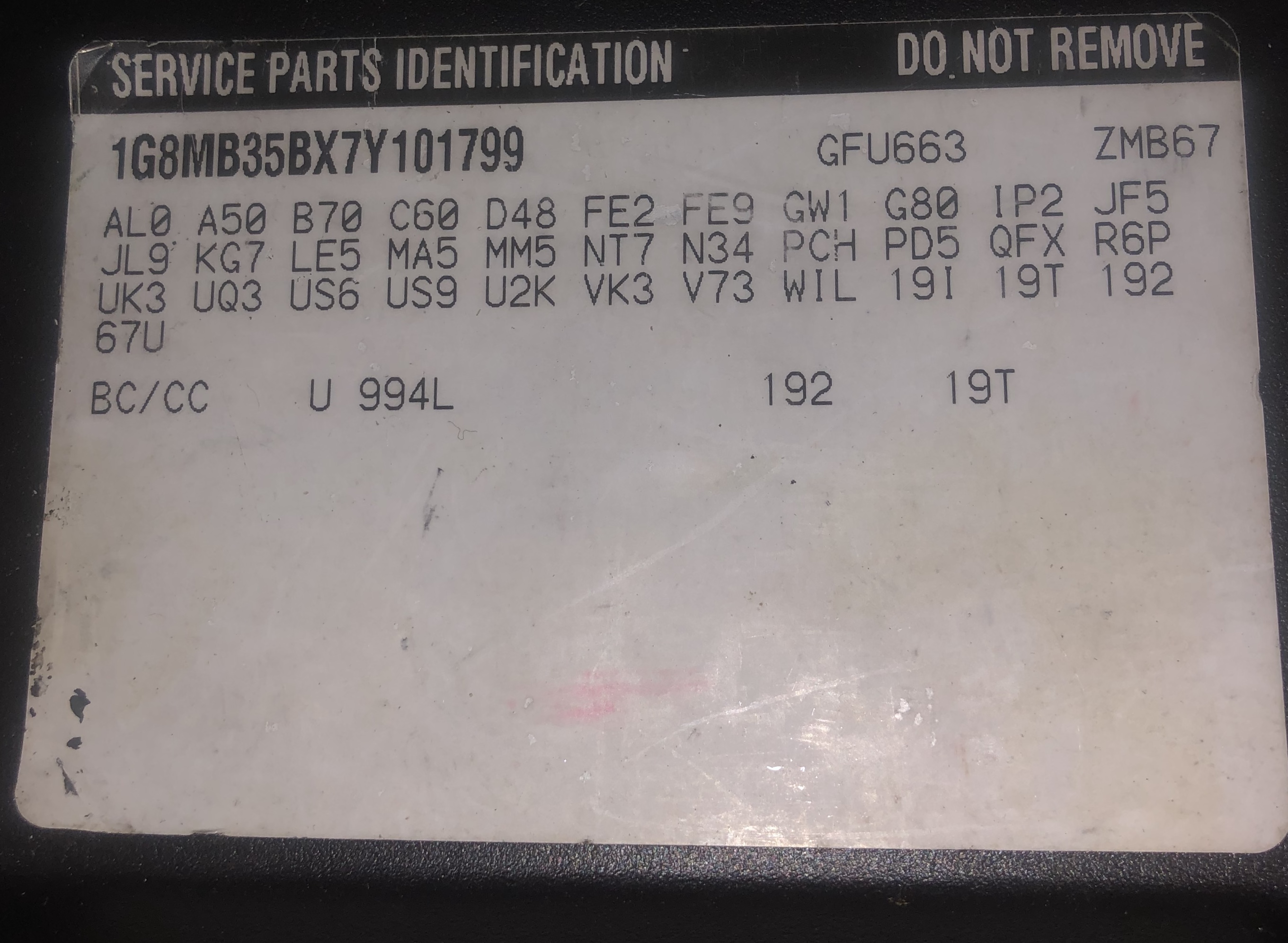 Sample Glove Box Sticker
Suspension Codes
The Solstice and Sky were offered with a few different suspension packages. Finding which package your vehicle has can be somewhat confusing. Follow our guide below to easily determine the specific suspense components your potential vehicle is equipped with!
The first thing to check when inspecting the vehicle is the vehicle option code sticker located in the glove box. However a more specific way to check is the identification sticker on the shocks and springs themselves. This will require lifting the vehicle and removing a wheel on the front and rear to see the sticker. Follow the chart below to see which part numbers and stickers went with each suspension package. This will only apply to vehicles with factory standard suspension, used vehicles may have had the shocks and springs replaced at some point, which may not have the correct identifying stickers or part numbers attached.
2006 Pontiac Soltice FE2 LE5 package came with a later discontinued shock arrangement that was not found on the Sky or later Solstice with the same package.
Front Shock : 15278695
Front Spring : 15244327 ( Light Green Sticker )
Rear Shock : 15278696
Rear Spring : 152800026 ( Tan Sticker )
FE2 LE5 - Pontiac Solstice ( 2007-2010 )
Front Shock : 15224875
Front Spring : 15244327 ( Light Green Sticker )
Rear Shock : 15236924
Rear Spring : 15280026 ( Tan Sticker )
FE2 LE5 - Saturn Sky
Front Shock : 15224875
Front Spring : 10376421 ( Dark Green Sticker )
Rear Shock : 15236924
Rear Spring : 15280026 ( Tan Sticker )
FE3 LNF - ( Non-Z0K ) - standard equipment for GXP and Redline models
Front Shock : 15901220
Front Spring : 15784872 ( Brown Sticker )
Rear Shock : 15901221
Rear Spring : 25787858 ( Purple Striped Sticker )
LE5 Z0K - 2007-2010 Pontiac Solstice (Street Edition package)
Front Shock : 15901220
Front Spring : 15906534 ( Light Green Striped Sticker )
Rear Shock : 15901221
Rear Spring : 15906532 ( Light Blue Striped Sticker )
LNF Z0K - 2007-2010 Pontiac Solstice GXP
Front Shock : 15901220
Front Spring : 25849163 ( Orange Striped Sticker )
Rear Shock : 15901221
Rear Spring : 25855626 ( Yellow Striped Sticker )
GM Performance Parts - Dealer installed performance package
Front Shock : 88965295
Front Spring : 88965293 ( White Sticker )
Rear Shock : 88965296
Rear Spring : 88965294 ( Lavender Sticker )
It is up for debate which suspension package is the best for your application. However the FE3 and GMPP packages have improved shock valving for performance driving.
Sky or Solstice?
Now that we know more about the Kappa platform in general, let's take a look at some of the key features that differentiate the Pontiac Solstice and Saturn Sky. Since both vehicles feature almost identical chassis, suspension, and drivetrain components; the driving experience in either will be mostly the same. The biggest deciding factor comes down to styling preference. The Sky features a sharper, sleek design. While the Solstice offers a smoother, rounded design. The interior designs also take on their own personalities matched to the vehicle's exterior. The interiors of both vehicles offer slightly different aspects, which one is preferred is up to the individual buyer.
Enthusiast Grade Hardware
While the Base Solstice or Sky have sufficient power and performance for some, enthusiasts who want the highest performance possible should consider the Saturn Sky Redline or Pontiac Solstice GXP. These sportier tuned versions offer additional power and handling to cater to more discerning drivers. Featuring a turbocharged and intercooled 2.0l LNF Ecotec engine, the GXP and Redline produce 260 horsepower and 260 foot pounds of torque. A healthy bump over the base 2.4l output that gives the chassis the power it deserves. The GXP and Redline are also treated to a revised stiffer suspension package offering a more controlled ride. The Turbocharged 2.0l is paired with a revised differential offering a 3.73:1 final drive ratio, along with an LSD as standard equipment.
Aside from the performance enhancements, the GXP and Redline also received a suite of cosmetic and aesthetic touches to differentiate themselves from the base models. The GXP / Redline received a more aggressive front grille, headlights, and lip spoiler. As well as a more aggressive rear bumper with dual exhaust tips. The interior receives a few minor touches as well including a raised speedometer limit and redesigned cluster. The seats also have added trims along with updated badging throughout the vehicle.
Not a Fan of the Convertible Soft Top??
If the convertible soft top models aren't for you, Pontiac did produce a limited number of Coupe models of the Pontiac Solstice and Pontiac Solstice GXP. These models added a Targa style hardtop with removable center panel. This top design allows you to be able to enjoy a similar top down experience without the complexity and security factor of the convertible soft top. The main drawback of this Targa style top, unlike most cars on the market with a removable roof section, is that the removable section does not fit inside the vehicle when removed, meaning you'll have to leave it behind at home.The production of the Coupe models was very limited, making used examples harder to find and equally more expensive than a standard cloth top example.
What to Watch Out For:
When searching for your future used Solstice or Sky, there are a few key points that should be inspected to ensure the vehicle will be reliable and trouble free. The Solstice and Sky were generally reliable vehicles, but make sure to look at these areas before purchasing yours:
Differential Axle Seals Leaking
Almost all vehicles we have seen have had differential fluid seeping from at least one axle seal. This extremely common problem would occur at any mileage and could cause increased wear on the differential internals if not addressed properly. While some light seeping is not a deal breaker, it should definitely be resolved as soon as possible.
Leaking Shocks
It is also common for the shocks to develop leaks at relatively low miles. If you have access to the vehicle on a lift, remove the wheels and inspect the shock assemblies for any fluid residue or leaks. A leaky shock can impact the ride quality and handling of the vehicle.
Body Damage
These vehicles were much lower to the ground in some areas than most other cars on the road. Inspect the front bumper and lip for any cosmetic damage that may not be apparent from eye level. Another area of the vehicle to commonly have damage is the front fender panels. Located just behind the front wheels, these panels can receive cosmetic damage from road debris and improper lifting / jacking of the car. The Solstice has steel panels in this spot, which can have dents and dings. While the Sky's have fiberglass panels that commonly crack and break over time.
Occupancy Sensor
Another common issue on these vehicles is the passenger side seat occupancy sensor. This error will cause the SRS light to constantly illuminate and can cause issues with the passenger side dashboard airbag. This problem can be difficult to track down since the sensor and wiring harness for this system is difficult to access inside the vehicle.
"Tulip Panel" Misalignment
The Tulip Panel is the silver panel with the two raised sections, directly behind the seats. Due to the complicated soft top operation, misalignment of the rear tulip panel, decklid, and soft top can occur. This can result in damage or cracking of the tulip panel. As well as a chance of moisture leaks and unsightly gaps in those components. Be sure to cycle through the top functions multiple times during inspection to ensure smooth operation.
Interior Plastics
In typical GM fashion, there are plastic components throughout the interior that can fail over time. The cupholders are common fail point and should be inspected for smooth and proper operation. The center console / arm rest between the seats is also made of brittle plastic that can crack with little pressure placed in the center.
Convertible Soft Top
While the soft top assembly on these cars is not a powered unit, it is still more complicated than other manually operated soft top cars on the market. Common failure points can be within the decklid latching mechanism, misalignment (as mentioned above), the front locking latch and general wear and tear on the top. If the car you're looking at has any sort of issues with the top, make sure the purchase price reflects this. If you must purchase a new top, and find yourself purchasing a complete used unit, make sure you pay attention to the car it came off of, as there were two styles, Plan A and Plan B available.
Overall. these cars maintain their quality fairly well with only limited expensive failures. If you can ignore the limited cargo space, tight cabin room, and no power top, you will be rewarded with a reliable, fun, and relatively inexpensive sports car. As always, you can improve upon your experience with a better optioned vehicle, and boost the performance with the GXP or Redline models.
Which is the Ideal Model For You?
When searching for your future Sky or Solstice, there are some vehicles that will stand out in the crowd. There are enough of these out there that you can afford to be a little picky, especially if you're willing to travel a bit for your perfect car. If outright performance is important to you (and budget allows), go straight for the GXP and Redline models. If you're not too concerned about straight line speed and are looking at a base model, we suggest looking for one with the G80 LSD option, as well as the Premium Package.
While the coupe version of the Solstice is rare and desirable, beware that prices are much, much higher than the equivalent convertible models, and it may not be worth the premium if you're looking for a car to actually put miles on.
We hope this information helps you make the right purchasing decision when searching for a used Sky or Solstice. If you found this information helpful, feel free to share, and check back with RedlineAutoParts.com if you need any quality used Solstice / Sky Parts.